Congratulations to our Senior Reserve Hurlers sponsored by BFIT Belfast on their win tonight in the Betsy Gray Shield against East Belfast GAA.
Bredagh 4-19 East Belfast 1-5
An historic night in Cherryvale when the home side lined out against the new boys from the East in the first hurling game between the 2 clubs. Conditions were perfect and both clubs were well supported on the night. The scoreboard suggests an easy win but the Bredagh did not get things easy and had to fight for every score. The boys in black and amber in only their second competive game gave a good account of themselves and will no doubt, with time to build, become a force to be reckoned with.
Bredagh burst out of the blocks and were well ahead in the first quarter with Michael Napier netting twice, one from a penalty to leave it 3-5 to 0-2 at the water break. A combination of Bredagh complacency and East Belfast settling to the task meant that the remainder of the game was a lot more competitive. Laurence Smyth Tiarnan Sheehan and Evin Maguire formed a strong half back line and were the launchpad for a lot of the Bredagh attack. Some great scores were taken with the likes of Niall Smyth and Ryan Curran pressing forward and driving over some great points from play. Tiarnan Sheehan gave an exhibition of long range free taking and the midfield and attack were in fine scoring form with 10 different names on the scoresheet.
Next up is another neighbour, Carryduff, on Saturday. This will be a tough assignment but hopefully we can keep on the winning track
Bredagh Scorers
Michael Napier 2-3 (0-2f 1-0 pen)
Tiarnan Sheehan 0-5 (0-2f 0-3 65s)
Niall Smyth 0-4
Ryan Curran 0-3 (0-1f)
Jamie Curran 1-0
Eoghan Curran 1-0
Joe McKee 0-1
Danny Robinson 0-1
Matt McAfee 0-1
Fintan McCollum 0-1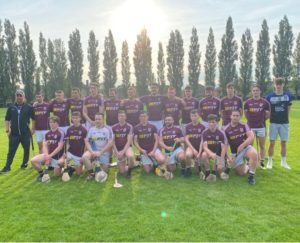 By simonfrancis
Wed 12th Aug