‼️Historic win for our senior hurlers‼️
Down SHC result Bredagh 2-17 Ballycran 0-17
Bredagh senior hurlers came of age today when they recorded their first win in the Down senior championship when they put on a magnificent performance at Carryduff to beat a Ballycran team who travelled with only one thing on their mind, a win and by a big margin. The boys in maroon and white had other ideas and played a brand of quick skilful hurling that the Ards men found difficult to live with. The win is even more incredible considering the Crans had 21 points to spare when the 2 teams met just 3 short weeks ago. Bredagh buoyed on by their narrow 1 point defeat AET against Ballygalget 2 weeks ago now have a belief in their ability and the win today did not come as a surprise to the squad and management.
Bredagh played with the wind in the 1st half and were ahead 1-10 to 0-7 at half time the goal coming from corner forward Michael Napier. Ballycran must have felt they could pull back the 6 point deficit with the wind on their back in the second half and they started well hitting 3 unanswered points. Bredagh didn't panic and simply raised their game and were rewarded when Cormac O'Rawe's brilliant over head effort from a long free in, rocketed to the roof of the Ballycran net. After that Ballycran fought tooth and nail for the victory but Bredagh finished the game strongly with 2 brilliant points each from Joe Hanrahan and Donal Hughes.
Ian Galway in the Bredagh goals gets better with every game and today he pulled off 2 spectacular first half saves to keep the opposition at bay. The full back line was as tight as a drum and special mention to Matt McAreavey who kept Ballycran dangerman Stuart Martin scoreless. The half backs also played superbly and held the strong Cran half forward line to a measly 3 points from play. Mark Patterson and Oran McFlynn won the midfield battle with Ballycran's star man Phelim Savage anonymous for much of the game. Both chipped in with excellent points from play. The Bredagh forwards proved a real handful for the Ballycran defence the half forwards contributing 0-15 between them with the inside forwards getting the goals. Ronan Costello was unerring from the dead ball and from play and ended with a personal tally of 0-10. Liam Hogan and Declan McCartney brought fresh legs to the occasion in the second half, Liam putting in a superb shift as sweeper in the last 10 minutes when Ballycran pushed hard for that elusive goal.
Bredagh's fantastic victory made a little bit of Down hurling history. Not since 1956 has an Ards team lost a SHC game to a team outside the Ards. There was no silverware won today but it was a sweet victory and Bredagh have finally achieved the victory they have worked towards since senior hurling at the club was resurrected in 2005
Bredagh team and scorers
Matt McAreavey Michael Woods Laurence Smyth Chris Ferry Cormac Hughes Niall McFarland Mark Patterson 0-1 Oran McFlynn 0-1 Joe Hanrahan 0-2 Donal Hughes 0-3 Ronan Costello 0-10 (0-7f) Michael Napier 1-0 Cormac O'Rawe 1-0 Niall Smyth
Subs used Declan McCartney Liam Hogan
Thanks to our team sponsors Used Cars NI and to Brian Mallon for the fab pics!
For full deck click here – https://bit.ly/2Zci6Ew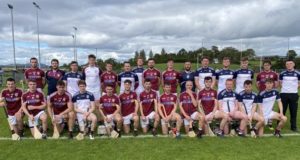 By simonfrancis
Sun 6th Sep