Our senior reserve hurlers sponsored by BFIT Belfast– a narrow defeat in the Betsy Gray Shield to neighbours Carryduff.
Bredagh 4-13 Carryduff 3-18
South Belfast neighbours Bredagh and Carryduff served up a real thriller this evening before a large crowd at sunny Cherryvale. The hurling was fast and furious with some excellent passages of play from both teams and with the the lead changing a number of times it was nail biting stuff right to the final whistle.
Carryduff came away with a 2 point win in the end and they had their keeper to thank for the victory as he brought off an amazing double save right at the death, first from a Jamie Curran pile driver and then a well struck follow up shot from Bredagh's chief marksman Liam Hogan.
The Bredagh defence back boned by Laurence Smyth, Tiarnan Sheehan and Evin Maguire held tight against a very potent Carryduff attack. Niall Irwin and Joe McKee put in excellent shifts at midfield and up front Niall Smyth, Ryan Curran, Ciaran McMullan and man of the match, Liam Hogan picked off some excellent scores.
A disappointing result but the boys can be very proud of their performance. Two more games left in the group stages of this competition and we will now require 2 wins to have any chance of progressing to the final. Next up is an away game against Warrenpoint on 22nd August.
Bredagh scorers
Liam Hogan 2-6 (0-2f)
Ryan Curran 0-3
Niall Smyth 1-0
Tom McGukian 1-0
Ciarán McMullan 0-2
Tiarnan Sheehan 0-1 (0-1 65)
Niall Irwin 0-1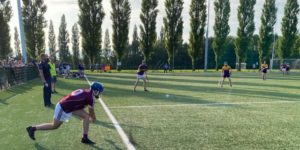 By simonfrancis
Sun 16th Aug