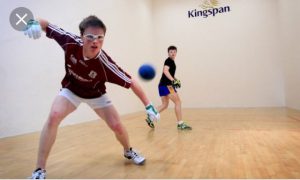 "An objective of Bredagh GAC is provide the local community with access to the widest range of GAA sporting and cultural activities. We are now in the position to add Handball to our list for the first time within the club.
We have arranged, in conjunction with Queens PEC, to run a 4-week programme of coaching and games for juveniles during Feb/Mar. This inaugural programme is aimed at 12-14 age groups and the emphasis is on having fun while learning new skills.
The coaching team will be led by three-times World Open Champion, Fiona Shannon, ably assisted by our own Niall McDonnell. All sessions will be held at the handball courts with Queens PEC, times to be arranged. All equipment will be provided. All you need to bring is enthusiasm (and a bottle of water)."
To register your interest text 07736059423.
See DJ Carey talk about the link between Hurling and Handball at