Bredagh 7-12 Ballygalget 4-8
Date: September 17th
Location: Teconnaught GAC
Goals win games – the old GAA saying rang true today as Bredagh banged in 7 classy goals to ensure back to back minor hurling titles and only their 3rd ever against a strong Ballygalget team.
Ballygalget started strongly with a couple of fine points, but Bredagh soon settled into their rhythm with points from Sean McCollum, Odhran Morgan-Lyttle and a great goal from full forward Shane O'Connell. Bredagh centre field pairing of Pearse Loughrey and Daniel Cunningham started to dominate proceedings in the middle third and further goals from Shane O'Connell and Finbarr Blaney had Bredagh going in at the short whistle 4-05 to 1-05 up.
The lads knew Ballygalget would come back strong in the 3rd quarter but stern defending from Man of the Match Eoin Brown, Patrick McGarry and Cillian O'Brien kept the Ballygalget forwards quiet. Indeed any score from the Ards men immediately resulted in a point or goal from Bredagh in response. Super points from John Dougan, Luke Doran and Finbarr Blaney further stretched Bredagh's lead and when killer goals from Doran, Morgan-Lyttle and John Dougan (which was an absolute peach) it was clear the minor championship was coming to South Belfast for the 2nd successive year.
The game closed out with well taken points from McCollum and Tomas O'Brien. The Defensive unit including Sean Doyle, Mark Guest, Conn Quilton and Conor Dunne were outstanding as was star keeper Daniel Kinney – pulling off a series of truly heroic saves. Tom Dougan and Frankie Ferguson all performed really well on introduction.
Outstanding captain, Pearse Loughrey gratefully lifted the trophy. A really great finish to the season and it should be highlighted that all 28 players have hugely developed as hurlers over the season and have all played a really important part in the league and championship.
Squad and Scorers
Dan Kinney, Conn Quilton, Cillian O'Brien, Eoin Browne, Mark Guest, Patrick McGarry (0-1), Sean Doyle, Pearse Loughrey, Daniel Cunningham, John Dougan (1-2), Luke Doran (1-3), Finbarr Blaney (1-2), Sean McCollum (0-2), Shane O'Connell (2-0), Odhran Morgan Lyttle (2-1), Tomas O'Brien (0-1), Conor Dunne, Shea Taggart, Frankie Ferguson, Conrad McKenna, Tom Dougan, Ryan Guest, Harry Baxter, Ben Baxter, Eoin Lovell, Siwan Ali, Charlie McLaughlin, Joseph Newman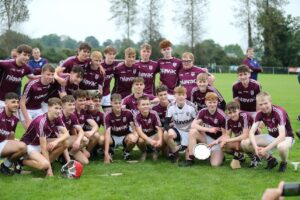 By siobhanmurphy
Tue 19th Sep