The GAA have announced the recipients for Gradaim an Uachtaráin 2022!
These prestigious annual awards affords Uachtarán CLG with an opportunity to acknowledge outstanding commitment and long service across the club and county network.
Guess what folks we have the Ulster WINNER!!!!
Drum roll please…..Our Chairman Mr Malcolm Macfarlane!
Uachtarán CLG Larry McCarthy said: "The GAA is about Games, but it is people who make the GAA what it is. The GAA Presidents' Awards is an opportunity for the Association to acknowledge a group of inspirational people who have made an outstanding contribution towards the success of Gaelic games."
"They are, in many respects, ambassadors for the tens of thousands of volunteers who dedicate themselves to the promotion of Gaelic games at club, school and county levels and who we are so fortunate to call our own."
"Their work is not motivated by recognition – but that is why it is all the more important to appreciate the work that they do and celebrate the fact the GAA is the better for it.
ULSTER AWARD: MALCOLM MACFARLANE, Bredagh GAC
Celebrating their golden jubilee, Bredagh GAA Club in South Belfast has 30 teams and 1,200 members and Malcolm MacFarlane is their inspirational chairperson, with a phenomenal appetite for work.
Malcolm has a strong sense of community and the potential for our games and the local club to reach out beyond the more traditional boundaries and activity. He organised exchange visits for members of the Bredagh club and the local Ballynafeigh Unionist Forum and Cultural Society in 2018.
At the start of lockdown, Malcolm and Bredagh teamed up with Rosario Football Club and Youth Centre and the Ormeau Boxing Club to distribute food worth £70,000 to elderly and vulnerable people in the Ormeau area. Over three months, they delivered to around 130 houses per week.
Having led a club fundraising drive for St Vincent de Paul last winter, he recently took the lead in initiating (along with SVP, the Salvation Army and the Ormeau Business Association) a 'Fuel Bank' to help ease winter poverty. He is also encouraging other sports clubs and trade association across the city and beyond to replicate the initiative. Malcolm has also served on the East Down Divisional Committee and was recently elected as the new Vice Chairperson. His drive and passion for the community are exemplary.
Congratulations Malcolm from everyone in the club.  A well-deserved award!!
The GAA Presidents' Awards (Gradaim an Uachtaráin 2020) will be broadcast tomorrow night on TG4 at 10.20pm.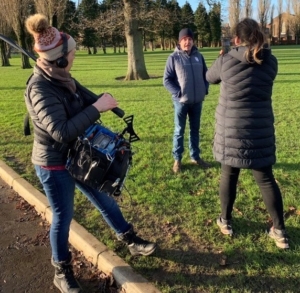 By siobhanmurphy
Thu 10th Feb