The latest guidelines have restricted the number of children that we can coach at any one session and as a result we need to hold off on new members for a couple of weeks. That will give us time to review attendances of existing members.
We envisage that there will be some easing of the restrictions on numbers allowed to attend and would be in a position to allow new starters to our sessions from the beginning of May. We will confirm this closer to the time.
In the meantime and to be prepared you can complete the following –
· Parents of children attending need to complete an education module and send in a copy of the Education certificate to the coach when you register See the link for details –
https://courses.gaa.ie/Covid19ClubEd/
If you would like to register your interest for joining and be kept informed of a date please send an email to secretary.bredagh.down@gaa.ie.
We look forward to welcoming you very soon!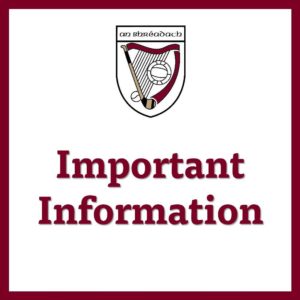 By siobhanmurphy
Wed 14th Apr