Bredagh 1-14  Castlewellan 0-12
Senior footballers march on to round 2 in the Down senior football championship after an impressive win against Castlewellan at Darragh Cross on Saturday afternoon.
On a warm and muggy afternoon at Darragh Cross, the senior footballers put in a big shift and out-played their opponents to win their first round championship game. In an evenly contested opening period Bredagh got off the mark first with points from Cormac O'Rawe (free) and Donal Hughes before Castlewellan registered their first score on the board. Another point from a Donal Hughes free kept the Bredagh score-board ticking over. Castlewellan struggled to create chances in the scoring zone with a combined effort by Conor Hannigan and Cormac O'Rawe effectively marking Castlewellan target man Sean Dornan at centre half forward. In addition, the Bredagh full-back line of Aodhan O'Keefe, Declan O'Hara and Paddy McLaughlin looking very assured and in control. Bredagh put some daylight between the teams on 15 minutes when a well worked ball up the field stretched the opposition defence and found Sean Blaney who palmed to the net past advancing Castlewellan keeper Rory Burns. An experienced Castewellan side didn't panic and chipped over the next two scores. Cormac O'Rawe put over another free before Castlewellan steadily kicked another two points to reduce the arrears to just two points. Bredagh rallied just before the half-time break with points from Donal Hughes (free) and Joe Sheilds to take a 4 point cushion going into the interval 1-06 to 0-05.
Bredagh were the dominant side in the 2nd half and this showed on the scoreboard as they out- scored Castlewellan by 6 points to 2 points by the water break on 18 minutes. Two of Bredagh's chances could have been goals only for a brilliant save by Rory Burns saw Cormac O'Rawes goal effort tipped over the bar and Donal Hughes saw his effort come off the crossbar, only to eventually get it back into his hands and he fisted over the bar. John McKenna and Benny Hasson were superb at mid-field working tirelessly throughout the game. Castlewellan dug deep in the closing period after the restart from the water break as they went in search of getting something from the game. They kicked over 5 points in this period but struggled to get in on the Bredagh goal due to great defending. Points from Benny Hasson and Conal O'Rawe kept Bredagh at arms-length until Adrian Sharvin blew the final whistle to bring proceedings to a close.
Great effort and performance by all involved and a well deserved victory.
Team and scorers:
Sean Armstrong, Paddy McLaughlin, Declan O'Hara, Aodhan O'Keefe, Brendan Gallen, Conor Hannigan, Michael Robinson, John McKenna, Benny Hasson (0-1), Liam O'Keefe, Kealan Devlin, Cormac O'Rawe (0-4, 3f), Joe Sheilds (0-2), Donal Hughes (0-6, 3f), Sean Blaney (1-0) Subs – Conal Toland for Michael Robinson, Conal O'Rawe (0-1) for Kealan Devlin, Matthew Hamilton for Liam O'Keefe, Daniel Gillespie for Benny Hasson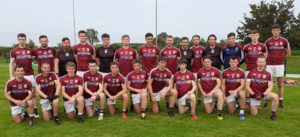 By simonfrancis
Sun 16th Aug