Down SHC
Ballygalget 1-15 Bredagh 0-20
Bredagh hurlers sponsored by @usedcarsni extracted their first 2 SHC points from Ards soil when they beat Ballygalget in their own back yard in an enthralling contest, the result of which was in the mix right to the final whistle.
The early exchanges were tight and scores were hard to come by with a strong cross field wind and both defences well on top. Bredagh took a slender lead Into the water break 0-3 to 0-4, the Bredagh points coming from the stick of top scorer Ronan Costello who was unerring throughout from the dead ball and open play.
The second quarter continued in the same vein, point for point as both teams fought for supremacy. Donal Hughes who was beginning to stamp his authority in the centre of the attack raced through and set up his brother Sean for what looked like a certain goal. But Sean was unceremoniously  hauled down as he pulled the trigger and Costello tapped over the resulting free. The defence were superb negating the aerial threat of Magic Johnston and the rest of the fast moving Galget attack. Costello and Donal and Sean Hughes kept the scoreboard ticking over and by half time Bredagh increased their lead to 2 points 0-9 to 0-11.
In the third quarter Bredagh really took the game to the Ardsmen with, the defence and midfield holding strong and feeding the attack who were driving through the Galget defence. Donal Hughes struck 3 long range points and a couple more Costello frees pushed the lead out to 4 points at the second water break. But the men in green were not finished and threw everything at Bredagh in the final quarter. They needed a goal and duly delivered when Ben Toner bulldozer his way through to set up Cormac Coulter who batted the sliothar to the net from close range to leave it a 2 point game and set up a tense finish. Bredagh stuck to their task and kept their noses in front and were unlucky not to score a major themselves when Sean Hughes raced through and unleashed a pile driver which was expertly turned over the bar by the Galget netminder Owen Clarke. Costello fittingly wrapped up the scoring when he struck his 13th point of the day from close range.
A superb performance from the Belfast men picking up their first win of the campaign and will be hoping for a repeat next week when they take on high flying Ballycran at the same venue.
Team and scorers –
Ian Galway, Matt McAreavey, Aaron Carey, Niall Smyth, Chris Ferry, Cormac Hughes, Niall McFarland, Deccy McCartney, Mark Patterson, Joe Hanrahan, Donal Hughes 0-5 Ronan Costello 0-13 (0-8f) Oran McFlynn Sean Hughes 0-2 and Sean McGourty.
Subs used Liam Hogan and Michael Napier.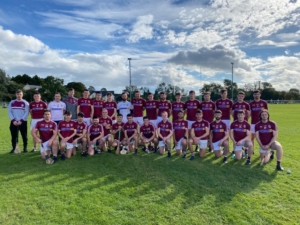 By siobhanmurphy
Mon 4th Oct