Senior Reserve League
Bredagh 1-15 Attical 1-11
Reserve footballers top their group with a credible performance against Attical
Bredagh reserves sponsored by The Parador were the better side on the score-board in the first half as they took a decent 1-08 to 0-03 lead into the half-time interval. This did not reflect general play as both teams were evenly matched on the pitch. Attical came up against some tenacious defending and struggled to convert their efforts into scores in open play. At the other end of the pitch Bredagh took a 3 point lead after 10 minutes, scores from Niall Kelly, Conall Doyle (tremendous effort from a tight angle on the left) and Conal O'Rawe. Attical got their first point on the board before Bredagh chipped over another two points, Lorcan Fahy from play and a free from Conal O'Rawe. After a second Attical point, Ruairi Gillen and Garbhan McManus kicked excellent mid-range points which were interspersed with a brilliant reactionary save from Neil Poland in the Bredagh nets. Bredagh's goal came in the 25th minute when a point effort from Conal O'Rawe dropped over the keeper and into the back of the net. Lorcan Fahy concluded the first half scoring with a well taken point from play.
Bredagh started the brighter team in the second half with points from Cornal O'Rawe (0-2) and Lorcan Fahy. Attical reduced the arrears with 4 good points before Cornal O'Rawe steadied the Bredagh ship with two successive points. Attical chipped over again before a welcome water break, leaving 8 points between the teams. Attical produced their best football in the closing 10 minutes as they went in search of something from the game. An onslaught of attacks gave the Bredagh defence plenty to do as they worked hard to contain the visitors. During this period Attical scored 1-03 but it could have been more only for brilliant defending and goalkeeping from a determined Bredagh team. A couple of counter-attacks resulted in scores from Cornal O'Rawe and a brilliant long range free from Ruairi Gillen to keep the home team out of touch before Eamon Rooney blew the full-time whistle on what was an entertaining game of football.
Parador man of the match – Niall Kelly – tireless performance from start to finish, kicked the first point of the game, two fantastic blocks in the first half and a huge presence on the goal line in the closing stages as Attical went in search of a goal. Well done Niall
Thanks to all players for your efforts in a highly competitive game. Next game is the league cup semi-final, opposition and date to be confirmed.
Team and scorers:
Neil Poland, Fionntan Quinn, Conor Lunny, Niall Kelly (0-1), Conor Nolan, Darren Rowland, Matthew McKeogh, Feargal Nolan, Garbhann McManus (0-1), Daniel Gillespie, Ruairi Gillen (0-2), Conal O'Rawe (1-7), Mark Cleary, Conall Doyle (0-1), Lorcan Fahy (0-3), Patrick O'Keefe, Jacob McDonnell, Ruairi McMahon, Padraic Woods, Feargal O'Kane, Cillian Durkan, Chris Savage.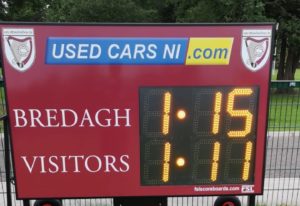 By simonfrancis
Wed 19th Aug